Gay Seattle: The Latest
Given all the attention around measles, here's what people who believe they have been vaccinated should know.
Macy's and The Trevor Project are rolling out a series of initiatives aimed at raising funds and awareness for Trevor's life-saving mission and services for at-risk LGBTQ young people.
Police in Northern Ireland arrested two teenagers Saturday in connection with the fatal shooting of a young journalist during rioting in the city of Londonderry and warned of a "new breed" of terrorists threatening the peace.
The memoir Prince was working on at the time of his death is coming out Oct. 29.
The time is drawing near for the impending birth of the first child for Prince Harry and his wife Meghan, the Duchess of Sussex.
President Donald Trump's lawyer Rudy Giuliani insisted there was "nothing wrong" with the president's 2016 campaign taking information from the Russians.
Sen. Elizabeth Warren became the first 2020 Democratic presidential candidate to make a full-throated call for the House of Representatives to begin impeachment proceedings against President Donald Trump.
Police say a 59-year-old man told a 15-year-old boy he was 39 and promised a shopping trip in exchange for "making out" - but then assaulted the teen.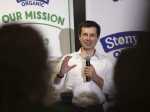 There are no policy positions on his website. He has virtually no paid presence in the states that matter most. And his campaign manager is a high school friend with no experience in presidential politics. Welcome to the campaign of Pete Buttigieg.
With French police suicides on the rise, Paris authorities are investigating yellow vest protesters who encouraged police to kill themselves.

The 1998 death of James Byrd Jr. was one of the most gruesome hate crimes in U.S. history. The town's past will be revisited this coming week, when the convicted ringleader in Byrd's slaying is scheduled to be executed.
The Warner Bros. horror film based on a Mexican legend about a woman who murdered her children and wanders the world looking for them brought in $26.5 million as the weekend's top film.
The Trump administration is poised to tell five nations, including allies Japan, South Korea and Turkey, that they will no longer be exempt from U.S. sanctions if they continue to import oil from Iran, officials said Sunday.
Now would-be migrants create chat groups and organize using social media to leave in caravans.
Don't let any of these myths prevent you from making the most of available travel rewards.
Auto shows may be waning in importance as companies find other ways to introduce new products, but the New York International Auto Show still has a healthy list of new vehicle debuts.
Polo Ralph Lauren is reimagining its iconic Polo shirt with Mother Nature in mind. Introducing The Earth Polo, crafted from thread derived entirely from recycled plastic bottles and dyed in an innovative process that uses zero water.
Workplace wellness programs have become an $8 billion industry in the U.S. But a study published Tuesday in JAMA found they don't cut costs for employers, reduce absenteeism or improve workers' health.
Many if not most Americans have never crossed the U.S. border with Mexico by land or spent any time in that region. This unfamiliarity can make it easy for politicians to distort what's going on. Immersion travel is one solution.
DJ Brent Covington and DJ Taffy hosted a busy night at FUZZ @ The Alley Bar last Friday night. Check out who was there.