Legal weed generated $10.4 billion in the United States in 2018, and the number of "plant-touching" jobs is expected to pass 500,000 by 2022. But be warned, the cannabis industry is not for the faint of heart.
When he resigned as defense secretary last December, Jim Mattis thought it might take two months to install a successor. That seemed terribly long at the time. Seven months later, the U.S. still has no confirmed defense chief.
Poor defendants who can't pay are jailed, clogging local lockups with people who in many cases have not been convicted of any crime and putting others on a probation that doesn't end until all debts are erased.
Former President Barack Obama did not eliminate a question about citizenship from the 2010 census, as blogs and social media posts have falsely reported in recent days.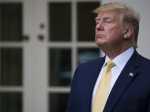 Just a week after insisting that he was "absolutely moving forward," President Donald Trump abandoned his effort to insert a citizenship question into next year's census.
A white Georgia couple evicted a white tenant because she invited a black family to the home she was renting, according to a federal lawsuit that says the landlords violated civil rights and fair housing laws.
The attorney general for the District of Columbia is suing Marriott, saying it's misleading customers by advertising room rates without including mandatory resort fees.
Deep-pocketed interest groups and activists on both sides of the long-running fight over gun laws are gearing up for a major clash in Virginia, now a key election battleground in the issue.
Some are watching old video of his previous testimony. Others are closely re-reading his 448-page report. And almost all are worrying about how they'll make the most of the short time they'll have for questioning.
Australian government assurances that public sector leakers rather than journalists are the targets of raids on two media organizations have come under question as new details have emerged of police efforts to track one reporter's movements.