Top Story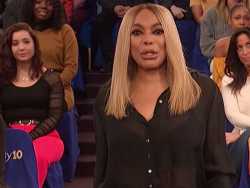 Wendy Williams says she's living in a "sober house" because of addiction struggles.
1 thru 10 of 13406 Stories
Despite previously saying he'd be down to star in a sequel to the gay romance drama "Call Me By Your Name" actor Armie Hammer has apparently changed his tune.
EDGE caught up with Jack Tracy to discuss the rigors and opportunities of his hands-on, low-budget filmmaking, delve into the fantastical mirror that "Snowflake" holds up to our times, and hear about his many ongoing projects.
The new trailer for Quentin Tarantino's new film "Once Upon a Time in Hollywood" is here.
"Good Boys" is fantastically self-aware and has an organic humor that never feels like it's trying to be anything other than what it should be.
It's not uncommon for people to just look at Jodi Benson and burst into tears.
Jordan Peele's sweet spot as a filmmaker are the "pit in your stomach" moments.
Disney's "Mary Poppins Returns" arrives on 4K Blu-ray, regular Blu-ray and Digital this week. While it may not be the original, Emily Blunt shines as Mary Poppins.
Writer/director Jack Tracy did what many people probably wanted to do after November 9, 2016: He made a feature film that looks at possible repercussions of electing an unqualified, unfit president and an anti-gay veep.
Michal Aviad's second feature drama, the finely nuanced "Working Woman" is an Israeli take on the #MeToo movement that clearly re-affirms the complexity of workplace harassment and that no two cases are ever the same.
The timeless 2002 Todd Haynes-directed melodrama "Far from Heaven" is available on Blu-ray from Kino Lorber with a release filled with special features.
1 thru 10 of 13406 Stories