Maria By Callas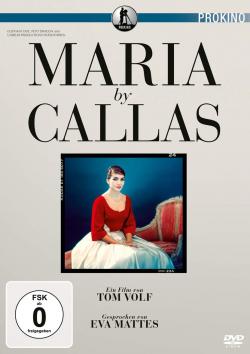 "MARIA BY CALLAS" is filmmaker Tom Volf's documentary about Greek-American soprano Maria Callas who defined bel canto repertoire on opera stages all over the world. She was also opera's reigning diva for two decades. Callas refused to buckle under the artistic control of opera impresarios, husbands, the press and paparazzi. She did it her way and Volf's film is, in effect, her own self-portrait — Callas does the singing and Maria does the talking about her life and her art.
The film highlights candid interviews Callas gave to Ed Murrow in the 50s on Person to Person, David Frost and Barbara Walters in the 70s. But mostly this is unrestrained Callas, who refuses to be put upon, confessing "I would have preferred to have a happy family and children. I would have given it this career with pleasure, but destiny is destiny...there's no way out..."
Volf also cast current opera star Joyce DiDonato to read excerpts from Callas' letters when there is no film or audio record.
Volf's gives a glancing look at Maria's childhood, with Maria describing how her mother pushed her into music, emigres from Greece, Maria grew up in New York. Her mother forced her to return to Greece to attend the prestigious opera conservatoire at age 13, and was taken under the wing of the Spanish soprano Elvira de Hidalgo who saw that Callas was an extraordinary soprano and actress and a fine pianist. Callas said that she owed de Hidalgo "everything" and they remained friends for life.
Callas entered her professional career ready to be a star. Volf has together archival personal footage of Callas and priceless Callas performances on the world's stages performing in opera classics including "Madame Butterfly," "Aida," "La Traviata," and "Carmen."
Callas was not universally admired and Volf homage however 'verite' will invite criticism, but in this film Callas remains center stage and as luminous a star as ever.
There is a riveting sequence of her debut performance in Paris on a gala evening where she sings "Casta Diva" aria from "Norma" in front of European royalty and international film, stage, and classical music stars. Volf admirably does not interrupt the performance or scenes, something that is so routinely done in documentaries about singers. Offstage, Callas was international news wherever she traveled around the world, looking radiant getting off planes as throngs of people waiting for a glimpse of her.
When pressed by the press, she was frank about the unrealistic demands of her profession. The director of the Metropolitan Opera fired her because she refused to sing the same roles in the same under-glass productions season after season. When her voice gave out in Rome due to bronchitis and she was only able to sing the first act, the rest of the performance was canceled, she was eviscerated in headlines around the world. "There was another name on the marquee that night," she stated "Bellini" citing the composer and her artistic commitment not to "destroy it in public."
Of course, others saw it differently. In the late 1050s, when Callas faced off with Metropolitan Opera director Rudolf Bing, he cancelled her contract. She told the press she refused to perform in hastily thrown together production, knowing her name alone would fill the opera house. Bing famously saying that Callas was not fired from the Met, she was "severed." Legions of her hometown fans camped out all night to see her triumphant return to the Met as Tosca in 1965.
Callas' highly publicized affair with Greek shipping tycoon Aristotle Onassis, generated endless gossip in the press. In private letters she describes her bitter divorce from her first husband who drove professionally past what she wanted to do. With Onassis, she writes, it is completely different, encouraging her to take time for herself and to fall in love with her art again and not let herself be overworked.
At 41, Callas she was showing vocal and physical strain and writing to Grace Kelly that her nerves and health were forcing her to stop. Her nine-year affair with Onassis came to a bitter end when he married Jacqueline Kennedy. Callas writes to Elvira that she now "I'm erasing him from my mind." Callas vowed to return the opera stage and was starring in gay director Pier Paolo Pasolini's film version of Euripides' "Medea." Volf includes wonderful on location film footage with Maria and the director cavorting like lovers. Upstaging her acting career were the international headlines reporting that Ari had reconciled with Callas.
Volf avoids the static documentary talking heads of experts pontificating about a legendary star. He visually transports the viewer into the vaulted world international opera. Callas was not universally admired and Volf homage however 'verite' will invite criticism, but in this film Callas remains center stage and as luminous a star as ever.
Lewis Whittington writes about the performing arts and gay politics for several publications.
Comments on Facebook