The Intruder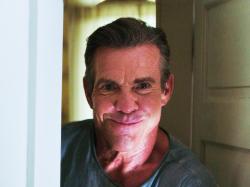 Available digitally today!

- - -

When characters in a movie say they have grown tired of living in the fast lane and want to move out to a secluded house in the country, audiences know that nothing good is going to come from it. We have been trained, thanks to a whole string of thrillers in the 1980s and 1990s, that someone is going to end up dead before the credits start rolling. With a name like "The Intruder," you know what movie you are walking into, unfortunately, most of the actors didn't know what type of film they were making.

Wanting to start a family, Annie and Stephen (Meagan Good and Michael Ealy, reuniting after appearing in the "Think Like A Man" series) decide to leave the confines of San Francisco for Napa Valley. Annie finds the sprawling estate of her dreams in a house known as "Foxglove." It has everything a young couple could possibly want: A giant driveway without a gate, a backyard that includes creepy statues but no fence, a creek and wooded area on the edge of the property that teenagers like to party in, and, of course, a former owner who refuses to leave.

Charlie (Dennis Quaid) keeps popping up without being invited by the couple. Initially, his appearances are odd but harmless; he shows up under the guise of being helpful, like to cut the grass and drop off things that they might need, like the name of a plumber and, presumably, an exorcist. Annie, bless her heart, feels for him and sees Charlie as a harmless and lonely old man, so she keeps inviting him in during his unexpected visits. Her obliviousness stretches the limit of believability by the mid-point of the film. She can't really be that naïve, can she?

The answer is a resounding yes. But she's not the only character who tests your patience during "The Intruder." Despite living with the constant annoyance of Charlie, who told them he would be moving to Florida to be with his daughter, for two months, no one thinks to get the cops involved. As a rule of thumb, if you ever find yourself in a similar situation to any of the characters in the film, just do the opposite of what they do, and you should be fine.

A decade ago, screenwriter David Loughery wrote the 'trashtastic' scorned woman thriller "Obsessed, which starred Beyoncé and Idris Elba. It's the type of movie that is so over the top and fun to watch that it is in regular rotation on Lifetime. He must have enjoyed the film because it feels like "The Intruder" has borrowed many of the same beats from his previous film. He has even shoehorned in an infidelity subplot that really has nothing to do with the movie, except it gives Annie a few scenes to get upset with Stephen — because he is obviously the one on whom she should be focusing her suspicion.

When you have a film called "The Intruder" about a man who is in his retirement years terrorizing a couple half his age, there is a built-in level of camp. However, "The Intruder" doesn't lean into its campiness and truly embrace the craziness that it could have been. Until the climax in the last half hour, the film is actually kind of boring. For most of the film, Charlie lurks in the shadows, offering the occasional jump scare when director Deon Taylor reveals him hiding in plain sight.

It appears that Quaid is the only one in the film who knew what type of film they were making. He's not just chewing scenery here, he's channeling Matthew McConaughey during the point in his career where everything he did was ham-fisted and over the top. He's a charismatic good ole boy, with a devilishly charming smile that is bound to get someone killed. In this case, Quaid is probably also going to be the one who kills them.

If this subgenre of thrillers is going to make a comeback, the filmmakers need to go all in: Know what kind of film they are making and give the audience the big moments. "The Intruder" fails because it doesn't give enough of a payoff to the audience, after sitting through an hour of inane character decisions. You might just want to stay home and check out what is on Lifetime — that's probably where this will also be heading soon enough.
The Intruder
Scott and Annie Russell couldn't be happier after buying their dream home from a mysterious and lonely widower named Charlie in Napa Valley, Calif. Their newfound paradise soon turns into a living nightmare when Charlie -- still strangely attached to the house -- begins to show up and interfere in their daily lives. When his erratic behavior turns to obsession, the young couple soon find themselves caught up in a violent confrontation that threatens to destroy everything they hold dear.
Info
Runtime :: 102 mins
Release Date :: May 03, 2019
Language :: Silent
Country :: United States

Cast
Scott :: Michael Ealy
Annie :: Meagan Good
Mike :: Joseph Sikora
Charlie Peck :: Dennis Quaid
Rachel :: Alvina August
Ellen :: Carolyn Anderson
Jillian Richards :: Erica Cerra
Grady Kramer :: Kurt Evans

Crew
Director :: Deon Taylor
Screenwriter :: David Loughery
Producer :: Roxanne Avent
Producer :: Deon Taylor
Producer :: Mark Burg
Producer :: Jonathan Schwartz
Producer :: Brad Kaplan
Executive Producer :: Robert Smith
Executive Producer :: David Guillod
Executive Producer :: David Loughery
Cinematographer :: Daniel Pearl
Film Editor :: Melissa Kent
Original Music :: Geoff Zanelli
Production Design :: Andrew Neskoromny
Set Decoration :: Shannon Murphy
Set Decoration :: Ingrid Richardson
Costume Designer :: Seth Chernoff
Casting :: Kim Taylor Coleman

Comments on Facebook