Shazam!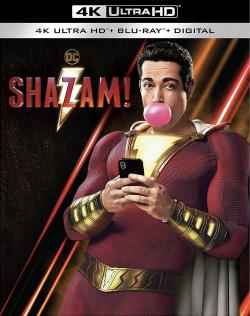 Lightning strikes!

...but is "SHAZAM!" - available now on 4K Ultra HD, Blu-ray and Digital - the superhero blockbuster that DC and Warner Bros are hoping for? Based on the comic book character that has appeared in publication for almost as long Superman, "SHAZAM!" is the story of the orphaned Billy Batson (Asher Angel), who is desperately looking for his family and is placed in foster care under the best possible situations. Billy, though, is determined to find his own way in the world and stumbles on some magic. Unfortunately for Billy, the evil Dr. Sivana (Mark Strong) is after the same power!

Transported to a mythical and magical realm, Billy meets a wizened old man (Djimon Hounsou) who demands the teenager become his "champion." All Billy has to do is say his name — Shazam! — and he'll be transformed into a super-powered adult (Zachary Levi) version of himself. Billy knows very little about being "super," and must rely on support from his new family — especially foster brother Freddy (Jack Dylan Grazer), who has devoted his life to following the adventures of Gotham's mysterious Caped Crusader, collected every news article on Metropolis' Man of Steel, and is super excited about the prospect of Billy joining the Justice League.

It doesn't all go to plan, and even as the pair begin to unravel all of the potentials behind that magical bolt of lightning, Billy doesn't realize the danger he's placed his new foster family in. As SHAZAM! draws more attention to himself, he lands in the crosshairs of Dr. Sivana, who has allied with the legendary enemies of all mankind: The Seven Deadly Sins. The monsters consume Sivana and use him as their tool, leaving Billy no choice but to confront his new arch enemy. Along the way, Billy learns that the true power of SHAZAM! is best shared, especially when he has a real family to fight by his side.

After the lukewarm reception of the team epic "Justice League" that assembled many of their big-screen heavy-hitters, DC and Warner Bros. appeared determined to put as much bank as possible on their stand-alone feature films. "Wonder Woman" proved a fan favorite, and "Aquaman" was an unprecedented blockbuster. "SHAZAM!" is unique among its contemporaries in that it is the first of the DC films that takes a light touch, gearing the themes more towards the family than the gloom and doom that has marked many of the franchise predecessors. What it lacks in depth it makes up for in charm, but it still falls a little short of the Marvel Studio films in character.

"SHAZAM!" is fun nonetheless, and is sincere in its approach to realizing this superhero franchise, and especially reminds us that going to the movies is supposed to exciting and thrilling. Levi is very slick as the titular hero, though the costume is a bit of a diversion at times and makes him look like an action figure rather than a big screen headliner. Mark Strong (making his second attempt at super villainy in a DC franchise) really fails the test and is more tepid than terrifying. He delivers his lines with such a deadpan dunce that it's impossible to see him as a real threat up against Levi's muscle-bound big, red cheese.

The Blu-ray packs a super-powered punch, and is loaded with more than 90 minutes of special features, including an exclusive motion comic, "Superhero Hooky," that picks up the action right where the movie ends. The filmmakers also take the audience on set and behind the scenes to lift the veil of secrecy and reveal what gives "SHAZAM!" its true power. Check out audition footage from the cast, deleted scenes, and an alternate film opening and ending not seen in theaters. The disc also includes a history of SHAZAM! the comic book hero and how the DC character has evolved through the ages.


"SHAZAM!"
4K Ultra HD, Blu-Ray and Digital
$44.95
www.warnerbros.com/movies/shazam/
Includes an exclusive motion comic "Superhero Hooky" and alternate scenes not appearing in the theatrical release.
Native New Yorker JC Alvarez is a pop-culture enthusiast and the nightlife chronicler of the club scene and its celebrity denizens from coast-to-coast. He is the on-air host of the nationally syndicated radio show "Out Loud & Live!" and is also on the panel of the local-access talk show "Talking About".
Comments on Facebook