Top Story
Charlize Theron is revealing that she's raising her child Jackson, whom she adopted and introduced to the world as a boy, as a girl.
The memoir Prince was working on at the time of his death is coming out Oct. 29.
The time is drawing near for the impending birth of the first child for Prince Harry and his wife Meghan, the Duchess of Sussex.
The Warner Bros. horror film based on a Mexican legend about a woman who murdered her children and wanders the world looking for them brought in $26.5 million as the weekend's top film.
This charming road movie takes its two characters - boyhood friends trying to reconnect - to unexpected, but fortuitous, places.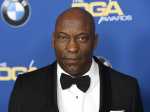 "Boyz N the Hood" director John Singleton suffered a stroke last week and remains hospitalized, according to his family. Additional details, including his condition, were not immediately available.