1 thru 10 of 8054 Stories
"RuPaul's Drag Race" star Miz Cracker took the challenge of transforming "America's Next Top Model" and "Dancing with the Stars" winner Nyle DiMarco into a stunning drag queen for the queer publication Them.
"Rocketman" star Richard Madden is causing quite a stir on social media this week after sharing a sexy shirtless selife.
Ja'Net DuBois, who played the vivacious neighbor Willona Woods on "Good Times" and composed and sang the theme song for "The Jeffersons," has died.
Zoe Caldwell, a four-time Tony Award winner who brought humanity to larger-than-life characters, whether it be the dotty schoolteacher Miss Jean Brodie, an aging opera star Maria Callas or the betrayed, murderous Medea, has died. She was 86.
In a new interview with Bustle, actor Rosario Dawson clarified a 2018 Instagram post in which some assumed she was coming out, saying that wasn't her intention but that she's now officially coming out.
Comedians are making their return to the White House Correspondents' Dinner after last year's hiatus.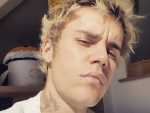 Justin Bieber's mustache is no more.
Kendall Jenner and fellow super models unveiled Burberry's new season designs at London Fashion Week on Monday, a collection that spanned everything from classic and ladylike to sexy, preppy and street-smart.
Actor Connor Jessup celebrated Valentine's Day by making his relationship Instagram official, revealing to his fans he's dating "Love, Simon" star Miles Heizer.
Taylor Swift's father recently fought a burglar who broke into his $4 million Florida penthouse, a newspaper is reporting.
1 thru 10 of 8054 Stories