Top Story
Of all the issues at stake as President Donald Trump and Democrats wrangle over his prized border wall, the latest snag is whether bargaining over the proposal should come before o...
1 thru 10 of 46198 Stories
The Democratic chairmen of two House committees pledged to investigate a report that President Donald Trump directed his personal attorney Michael Cohen to lie to Congress about negotiations over a Moscow real estate project during the 2016 election.
The anti-LGBTQ school where Karen Pence is now working has a care package coming from The Trevor Project: 100 copies of a book about a gay bunny with the same name as the Pence family pet.
Mary Oliver, the Pulitzer Prize-winning poet whose rapturous odes to nature and animal life brought her critical acclaim and popular affection, has died. She was 83.
Vice President Mike Pence says the criticism of Christian education in America should stop.
Presidential candidate U.S. Rep. Tulsi Gabbard on Thursday responded to criticism about her past work advocating against gay rights by apologizing in a video.
A New Orleans school board member withdrew from consideration for the board presidency Thursday night amid a flurry of criticism over her record of resistance to protections for LGBT students.
The Washington, D.C, attorney general says a restaurant will be fined $7,000 for stopping a transgender woman outside a bathroom and asking for her ID.
There are a number of potential candidates who believe the 2016 and 2018 elections showed that voters are looking for fresh faces and that the old rules of politics may no longer apply.
She imperiled his State of the Union address. He denied her a plane to visit troops abroad.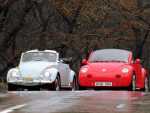 Volkswagen Group says that it will pay a fine of 1 billion rupees ($14.2 million) imposed by India for installing software that allegedly cheated pollution testing devices, though it is still appealing the order.
1 thru 10 of 46198 Stories