1 thru 10 of 1489 Stories
Guns N' Roses, Maroon 5, DJ Khaled and DaBaby will bring the heat to Super Bowl week in Miami.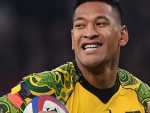 Anti-gay former rugby star Israel Folau and Rugby Australia got nowhere during a 12-hour mediation process earlier this week, but then managed to agree on a settlement. While some speculated about dollar amounts, others were just glad it's over.
Lady Gaga is returning to the Super Bowl stage — sort of.
Gus Kenworthy will be competing in the 2020 Beijing Winter Games but not for America. Instead, he'll be representing Great Britain.
Tennis Australia has confirmed it plans to honor Margaret Court's 50th anniversary of her 1970 Grand Slam during January's Australian Open, but stressed her controversial anti-gay views "do not align with our values of equality, diversity and inclusion."
Colin Kaepernick's saga took another surreal turn Saturday.
One of China's biggest Olympic stars fought Friday for his right to compete at the 2020 Tokyo Games during a rare public hearing that turned combative at times.
Violence is part of the game in many sports but Myles Garrett crossed a line that attracts the attention of authorities sometimes from within their sport and in other cases from criminal prosecutors.
Myles Garrett couldn't control the rage that makes him a defensive star.
Katy Perry will perform before and after the Women's Twenty20 World Cup cricket final on International Women's Day as organizers bid to set a world record for attendance.
1 thru 10 of 1489 Stories