Top Story
A British court ruled Friday that police infringed a man's right to free expression when they showed up at his workplace to quiz him over his Twitter posts about transgender p...
The Massachusetts Institute of Technology has agreed to provide captions for more of its publicly available online videos as part of a settlement announced Tuesday.
What's more deadly — the flu, SARS or the new coronavirus discovered in China?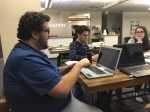 In this post-impeachment era of divisiveness and deadlock in the nation's capital, Uncle Sam has a message for top U.S. technologists: I Still Want You.
No NATO ally should succumb to the temptation of letting Chinese tech giant Huawei into their next-generation cellular networks, U.S. House Speaker Nancy Pelosi said Monday at Allied headquarters.
Facebook CEO Mark Zuckerberg met top European Union officials on a visit to Brussels on Monday, days before the bloc is expected to release new proposals on regulating artificial intelligence.