1 thru 15 of 7731 Stories
The Massachusetts Institute of Technology has agreed to provide captions for more of its publicly available online videos as part of a settlement announced Tuesday.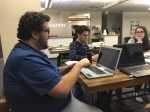 In this post-impeachment era of divisiveness and deadlock in the nation's capital, Uncle Sam has a message for top U.S. technologists: I Still Want You.
No NATO ally should succumb to the temptation of letting Chinese tech giant Huawei into their next-generation cellular networks, U.S. House Speaker Nancy Pelosi said Monday at Allied headquarters.
Facebook CEO Mark Zuckerberg met top European Union officials on a visit to Brussels on Monday, days before the bloc is expected to release new proposals on regulating artificial intelligence.
At Facebook, Stan Chudnovsky oversees the Messenger chat app that's used by well over 1 billion people each month. He's playing a key role in helping Facebook integrate that app with its other chat tools.
Barcelona's Twitter accounts were hacked after the team's 2-1 home win over Getafe in the Spanish league on Saturday.
Facebook's green light for political campaigns to pay prominent social media users to spread their messages is highlighting the difficulties around setting rules for the fast-changing world of online political campaigning.
Six months after India's government stripped restive Kashmir of its semi-autonomy and enforced a total communications blackout, it is heralding the restoration of limited, slow-speed internet.
A federal judge on Thursday ordered a temporary halt of Microsoft's work on a $10 billion military cloud contract, a win for Amazon, which sued the U.S. government last year for awarding the contract to its rival.
An internet voting app that has been used in pilots in West Virginia, Denver, Oregon and Utah has vulnerabilities that could allow hackers to change a person's vote without detection.
California authorities used recently developed DNA techniques to free one man and implicate another for only the second time in the United States, officials said Thursday.
A government watchdog plans to launch a nationwide probe into how telemarketers may be getting hold of seniors' personal Medicare information, a red flag for potential fraud and waste.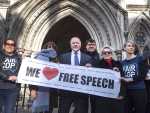 A British court ruled Friday that police infringed a man's right to free expression when they showed up at his workplace to quiz him over his Twitter posts about transgender people.
A 56-year-old hair stylist who was highly esteemed and beloved was found beaten to death at a motel in Detroit's 8 Mile district. Police have a suspect in custody, and believe the two might have communicated via a dating app.
Organizers of the world's biggest mobile technology fair insisted Thursday that they canceled the annual Mobile World Congress due to health and safety concerns over the virus outbreak in China. But the Spanish government disagreed.
1 thru 15 of 7731 Stories