Top Story
White House counselor Kellyanne Conway's teen daughter is going viral on the social media video app TikTok for directly opposing her mother's boss: President Donald Trump...
1 thru 10 of 53757 Stories
A Republican voted out of office in a primary after coming out as gay in conservative Utah says a backlash during the campaign has him questioning whether his party has a place for him.
President Donald Trump planned a fiery Mount Rushmore speech Friday night including denunciations of protesters he says are trying to "tear down" the nation's history.
The union that represents film actors told its members Thursday not to work on the upcoming pandemic thriller "Songbird," saying the filmmakers have not been up-front about safety measures.
Asking people in English pubs to keep their distance is going to be tough after they've had a few of their favorite tipples.
President Donald Trump will begin his Independence Day weekend on Friday with a patriotic display of fireworks at Mount Rushmore before a crowd of thousands, butthe event has drawn controversy and protests.
All leading U.S. airlines now require passengers to wear masks, but regulators have refused a request by the airlines to make it a federal rule.
The prison inmate who claims to have been Aaron Hernandez's prison lover is speaking out about their relationship, alleging the "former football star was his 'right hand man' and that they 'did everything together.'"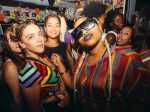 "The outpouring of love and donations on the various platforms has been incredible. But we need continued support until we reopen," says Henrietta Hudson owner Lisa Cannistraci. "I'm not going to lose the bar. I'm not going to let it happen."
Looking to flex his newfound influence among Kentucky Democrats after his Senate campaign fell just short, Charles Booker reached out Thursday to unite behind Amy McGrath's uphill fight to unseat Mitch McConnell.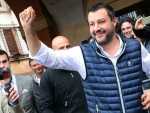 Far-right Italian politician Matteo Salvini responded to government deliberations on a bill against homo- and transphobia by suggesting a measure to counter "heterophobia." Twitter went wild with mockery.
1 thru 10 of 53757 Stories