Top Story
Studies have shown that people may be contagious for about two days before developing COVID-19 symptoms.
The coronavirus was found on ice cream produced in eastern China, prompting a recall of cartons from the same batch, according to the government.
The legislation would ban specific types of surgeries on infants born with intersex characteristics. Advocates are pushing to delay these types of surgeries until the child is old enough to develop a gender identity.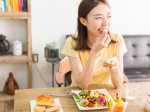 "New Year. New You." It's a phrase we've heard countless times, but what exactly are we striving for? Enter Noom, which has people lead healthier lives through behavior change since 2016.
"Masks and social distancing will need to continue into the foreseeable future — until we have some level of herd immunity," said Dr. Preeti Malani, chief health officer at the University of Michigan. "Masks and distancing are here to stay."
A scholarly paper based on surveys of gay and bisexual men finds that while PrEP use has increased, only a fraction of men who have sex with men have taken it up — and a third of those abandon PrEP over time.
Starting this month, most people with private insurance will no longer have to decide whether they can afford to protect themselves against HIV.
From marriage and family therapists to celebrities like Tom Ford and Alan Cumming, everybody has an opinion about monogamy. A new study highlights the variables that make (or break) a successful relationship.
If you are sick and plan to exercise this cold and flu season, experts say to use your head — and recognize the body's warnings signs.