1 thru 10 of 8664 Stories
When most of Europe locked down their populations early in the pandemic by closing schools, restaurants, gyms and even borders, Swedes kept enjoying many freedoms.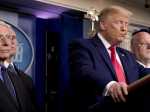 As the coronavirus pandemic began bearing down on the United States in March, President Donald Trump set out his expectations.
The fitness industry has begun to push back at the pandemic-driven perceptions and prohibitions. "We should not be lumped with bars and restaurants," says an executive from the International Health, Racquet & Sportsclub Association.
U.S. health officials on Friday dropped a controversial piece of coronavirus guidance and said anyone who has been in close contact with an infected person should get tested.
Fresh nationwide lockdown restrictions in England appear to be on the cards soon as the British government targeted more areas Friday in an attempt to suppress a sharp spike in new coronavirus infections.
While it's long been known that smoke can be dangerous when in the thick of it, research confirmed what public health experts feared: Wildfire haze can have consequences long after it's gone.
A support system, advocacy portal and resource guide, Solace empowers transgender individuals through their transition through a tech-savvy and easy-to-use app.
Cholesterol can be confusing. But understanding it could help you live a longer, healthier life.
The lapses leave officials and the public in the dark about the true scope of the pandemic as untold numbers of cases go uncounted.
Studies around bisexuality have found several factors that impact the mental health of bi-identifying men and women.
1 thru 10 of 8664 Stories