Top Story
"When we're voting, it's easy to think it's just for a candidate or party we align with, but it's so much more than that," says Drag Out the Vote'...
1 thru 10 of 55371 Stories
Among transgender-rights activists, there's a powerful mix of hope and fear heading toward the Nov. 3 election.
Vice President Mike Pence plans to maintain an aggressive campaign schedule this week despite an apparent outbreak of the coronavirus among his senior aides, the White House said Saturday.
Pope Francis on Sunday named 13 new cardinals, including Washington D.C. Archbishop Wilton Gregory, who would become the first Black U.S. prelate to earn the coveted red hat.
About 70 LGBTQ Trump supporters and allied housewives marched for Donald Trump in heavily Democratic WEHO Friday night.
Republican claims that Democrats would expand the U.S. Supreme Court to undercut the conservative majority if they win the presidency and control of Congress has a familiar ring.
The one thing most likely to conjure nightmares of the 2016 election night for opponents of President Donald Trump is the Needle.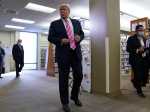 President Donald Trump said he voted Saturday "for a guy named Trump" and called it an "honor" to cast his own ballot in his adopted home state of Florida before he jetted off to campaign in three battleground states.
LGBTQ History Month is having a much broader impact in Illinois this year, thanks to a new law that mandates the teaching of LGBTQ heritage in public schools across the state.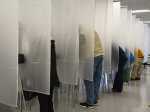 Earlier this month, President Donald Trump was predicting on Twitter that this election would be "the most corrupt" in American history. A day later, the head of an obscure government agency he created offered a much different message.
Scientists have discovered the first nest of so-called murder hornets in the United States and plan to wipe it out Saturday to protect native honeybees, officials in Washington state said.
1 thru 10 of 55371 Stories