Top Story
President Donald Trump threatened Monday to pull the Republican National Convention out of North Carolina if the state's Democratic governor doesn't immediately sign off ...
1 thru 10 of 53055 Stories
It's a way different kind of year, and so The ESPYs will be, too.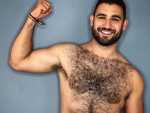 When Mr. Gay World 2020 had to be put off to next year, the plan was for first runner-up from 2019 to serve an interim term. Then an ironic twist emerged - one with a heroic tinge.
Rep. Steve King is fighting for his political life — but not because he's made light of rape and incest, or because he wondered when the term "white supremacist" became offensive.
Hospitals around the country are afraid to send out hundreds of thousands of bills related to COVID-19 testing. That's because Congress mandated there would be no copays and no out-of-pocket costs for patients. But who's paying?
Costa Rica is expected to become the latest country to legalize same-sex marriage early Tuesday when a ruling from its supreme court goes into effect ending the country's ban.
Chief Justice John Roberts told graduating seniors at his son's high school that the coronavirus has "pierced our illusion of certainty and control" and he counseled the students to make their way with humility, compassion and courage.
Neither public rivals nor personal friends, Keisha Lance Bottoms and Stacey Abrams spent years climbing parallel ladders at Atlanta City Hall and the Georgia Capitol.
As Brazil and India struggle with surging coronavirus cases, a top health expert is warning that the world is still smack in the middle of the pandemic, dampening hopes for a speedy global economic rebound and renewed international travel.
Congress is at a crossroads in the coronavirus crisis, wrestling over whether to "go big," as House Speaker Nancy Pelosi wants, or hit "pause," as Senate Majority Leader Mitch McConnell insists.
With Brazil emerging as one of the world's most infected countries, President Jair Bolsonaro is deflecting all responsibility for the coronavirus crisis, casting blame on mayors, governors, an outgoing health minister and the media.
1 thru 10 of 53055 Stories