Watch: Drag Queen Pissi Myles Covers First Public Impeachment Hearings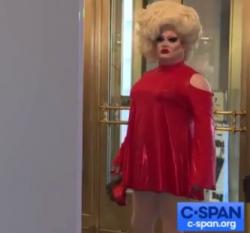 New Jersey native Pissi Myles, a drag queen who performs frequently in New York, attended the first public impeachment hearings on Capitol Hill Wednesday.

"It's a crazy day in Washington! I'm flipping my wig over the high-energy proceedings today," Myles told NBC News. "Tensions are high, and the bar for who's allowed in the Longworth House is very, very low."

David Ayllon, Myles' husband and business partner told NBC that Myles was there to cover the impeachment proceedings for a new startup app called Happs.

The New York Post shared video of Myles going through security to get into the Longworth House, where the hearing was held, which can be viewed below.

According to the Post, Myles' wig had to undergo its own security scan, due to its height.



Comments on Facebook