1 thru 10 of 5579 Stories
Western critics took issue with the Queen/Freddie Mercury biopic "Bohemian Rhapsody" over its apparent straight-washing of the rock front man but China took things further, completely erasing any mention of queerness in the musical drama.
French President Emmanuel Macron said in a newspaper interview Monday he hoped a 73-year-old yellow vest protester who suffered serious head injuries after being charged by police in Nice gains "wisdom" over the incident.
Russia is reacting with an "I told you so" on Monday in state media after the conclusion of Special Counsel Robert Mueller's investigation into Moscow's involvement in the U.S. presidential election didn't find evidence of collusion.
A British revival of the stage version of "The Color Purple" was set to star Oluwaseyi Omooba - until anti-LGBTQ Facebook comments posted by the actor in 2014 came to light. She had been set to portray a woman who has a lesbian relationship.
An exhibition of art about Michael Jackson is opening in Germany amid fresh controversy over the singer's alleged abuse of children.
K-pop singer Jung Joon-young was attending a South Korean court hearing Thursday on whether a warrant will be issued for his arrest on allegations he illegally shared sexually explicit videos of women taken without their knowledge or consent.
Human Rights Watch urged Japan on Wednesday to drop its requirement that transgender people be sterilized before their gender is changed on official documents.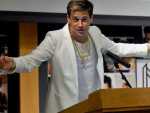 First he was banned from entering Australia. Then he wasn't. Now, following Facebook comments in the wake of Friday's New Zealand mosque shootings, right-wing commentator Milo Yiannopoulos is banned from Australia again.
The victims of a British man who deliberately infected them with HIV are featured in a new BBC documentary, where they share their stories.
Serbia's president pledged Sunday to defend the country's law and order a day after opposition supporters stormed the national TV station, protesting what they called his autocratic rule and biased grip on the country's media.
1 thru 10 of 5579 Stories