1 thru 10 of 27510 Stories
The Republican treasurer for Mobile County, Alabama is coming under fire for a now-deleted Facebook comment in which he said "freaking queers have gotten too much sympathy" — a remark he's refusing to apologize over.
The Democratic-controlled House voted Tuesday night to block President Donald Trump's move to restrict transgender men and women from military service.
Joe Biden paid a visit Tuesday to the Stonewall Inn ahead of the 50th anniversary of an uprising that helped spark the gay rights movement.
South Bend, Indiana, Mayor Pete Buttigieg is telling officers after a fatal police shooting that they must activate their body cameras during any interaction with civilians.
YouTuber Elijah Daniel is new mayor of Hell. His first act? Renaming the town Gay Hell in honor of Pride month.
An Alabama mayor and city leaders refused to acknowledge questions on the mayor's statements about "killing out" gay and transgender people at a city council meeting.
President Donald Trump is threatening to remove millions of people living in the country illegally on the eve of formally announcing his re-election bid.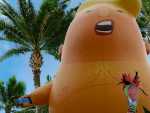 Opponents of President Donald Trump's reelection announcement in Florida on Tuesday are launching their protests at a nearby gay bar where a mariachi band and a drag queen will perform in what they say is a juxtaposition of the president's policies.
Lawyers for the families of children and adults killed at Sandy Hook Elementary School disclosed Monday that child pornography was found in electronic files sent to them by conspiracy theorist Infowars host Alex Jones.
Author Nicholas Sparks has responded to the disparaging emails which released as part of a lawsuit he is facing as Chair of the Board at a school he co-founded.
1 thru 10 of 27510 Stories