Top Story
A beautiful day and the biggest crowd in history made this year's Boston Pride Parade and Festival one of the biggest events this year in the city.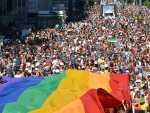 Feeling like there's so much to do, so little time, and not sure where to eat and drink before and after it all? Here are our top picks for some sweet spots in Times Square and it's delightful LGBTQ-friendly adjacent neighborhood, Hell's Kitchen.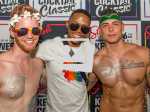 Key West celebrated Pride with the Stoli Kickoff party. There was also plenty more fun to be had at 801, Bourbon Street Pub and Aqua Nightclub.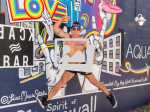 There certainly were some pool party shenanigans going on at Equator and Bourbon Street Pub during Key West Pride.
The largest gay pride parade in the Middle East drew hundreds of thousands of revelers and demonstrators from all over to the streets of Tel Aviv on Friday.
Key West sure does know how to throw a Pride Tea Dance! A great time was had by all who attended. The Key West Business Guild and the Stoli Key West Cocktail Classic presented a $5000 check to MCC Church. Check out all the fun.
Gay Pride Around the World